COSTA RICA

Song "Soy Tico"
Original Carlos Guzmán
New Version: Los Ajenos y Paul Rubinstein
Televisora de Costa Rica
PURA VIDA and the Ticos
Even though you'll find the Pura Vida expression in every souvenir there is in Costa Rica, this phrase is way far from being used only in the tourism industry but is used in any aspect of life.
Pura Vida is the way the ticos express wellness and happiness. On their day by day they use Pura Vida to say: Hello!, Hi!, Good Bye!, Thank you!, Nice to meet you!, etc. Also, they use the phrase to express a bunch of different positive situations such as: I'm well! or, This is good!
As we always tell our clients: if you don't know much Spanish but if you know Pura Vida then you could hold a conversation for 30mins.
So ¡PURA VIDA!
TICOS
Ticos or Costa Ricans are a unique type of perceptive, clever, tolerant, and welcoming people who were, are and will be born in Costa Rica.
People who are in love and proud of their land and who feel butterflies in their stomachs when they hear the "Patriotica Costarricense". The ticos are hardworking people passionate about what they do. Ticos, are people who respect nature and who appreciate a relaxing time in the clear waters of one of their many rivers or the two oceans that surround the country.
Ticos are people who welcome our visitors with a warm friendly smile.
But be careful when you get to meet a tico. Remember they'll crack you up with their jokes, they'll invite you to make a stop in your daily activities to enjoy a cup of the best coffee, and the conversation topics will just never end especially if you talk about soccer. Beware, because that new tico friend of yours will not let you get up from your beach chair when you'll be resting by the ocean.
Costa Rica does NOT have an army...
Every December 1st Costa Ricans celebrate one of the most important decisions made as a country: the abolition of the army in 1948.
The country was starting a new time where the priority of the government would be security and education.
Although the army abolition was officially declared in 1948, it was till 1949 when the article was included into the new Constitution of Costa Rica. Since then, the budget that was once meant for the army, it was sent to the education development.
What are the Costa Rica main economic activities?
Costa Rica owes its development as a Republic to Coffee and Bananas. Nowadays, those products are still important income makers and are internationally recognized as excellent quality products. Although a good part of the economy in Costa Rica is based on agriculture, Costa Ricans prefer to study and specialize in science, technology and literature. Having people who are well prepared in new economy fields, Costa Rica bases its current economy on Technology and the production of Tropical Fruits.
Today, the main exported products from Costa Rica are medical devices, followed by bananas a product of big importance. In the third place Costa Rica exports tropical fruits and finally the country produces microchips and orthopedic devices.
The evolution of the economic activity of the country varies every year, but technology and fruits are positioned as the most important products.
When to visit?
As a tropical country, Costa Rica possess a pleasant weather in every month of the year. The secret is to adapt the trip and the activities to the only two weather seasons there are in the country: rainy and dry.
Usually, people like to visit Costa Rica during the dry season between December and April because it gives them more hours of tropical sun. It is important to note here that school break happens during those months bringing more people to the coasts and vacation places. So don't forget to book in advance if you are planning on coming during that time.
May marks the beginning of the rainy season, what we call winter. Due to the amount of rain the rivers grow and the non-paved roads become difficult for the transportation. Then don't forget to pack up a little extra patience and bring your rain jacket or poncho.
For those who would like to enjoy special species of wildlife such as sea turtles, you need to take into account their natural cycles, for instance: on the Caribbean coast of Costa Rica the sea turtles come to lay their eggs between July and November.
How to survive the ticos?...
⚈ Pura Vida culture for most of the situations.
⚈ Ticos are very warm and friendly, so you could expect a kiss on the chick or a strong hand shake as a greeting.
⚈ The time in Costa Rica is always laid-back. It's a Latino country so be patient.
⚈ Try to avoid arguing and shouting when there is some misunderstanding. Ticos are people who avoid those situations.
⚈ Always meet people with a big smile, say hola! thank you! And please! Ticos love friendly and polite people. Get ready to being told "Con mucho gusto" which means My pleasure! Costa Ricans are really grateful people and they'll appreciate your kindness.
⚈ Practice your Spanish! Costa Ricans love teaching their language and their culture to our visitors.
⚈ If someone invites you to their home for dinner, they mean it! You better go.
Getting Around
Driving in Costa Rica is an entire adventure on its own. Asking people for directions will help you a lot specially because there is very few street signs.
The roads are challenging as Costa Rica is a country full of mountains. Therefore, we recommend you to bring your car sickness pills and to drive with extra precaution.
By the way and talking about asking for directions, the answer to that will never be short. In Costa Rica we give the addresses by landmarks and distances, so an example for that could be: "200mts East from the blue house by the corner. In front of the Catholic Church, the house has a mango tree in the garden"
However, if you are not planning on driving while in Costa Rica, we have great news for you. You could hire our transportation services at Stamos Traveling CR we'll be happy to help you
CONTACT US
. Another option is the public transportation, it's not the most modern in the world but it is efficient. There is trains, planes, buses, taxis, etc.
Money and Tipping
While traveling through Costa Rica, you could use the local currency called Colón or its plural Colones (¢, CRC). Check on the exchange rate following this link:
http://www.bccr.fi.cr/
In Costa Rica, not all the currencies from around the world are accepted for the regular transactions. However, the American Dollar is widely accepted. So if you do have USD it won't be a problem to pay. Remember Colones is the local currency so, when you'll pay probably the change will be given to you in Colones. Also in some places the prices will be tagged in Colones, this specially applies to small shops.
Also, you could exchange US Dollars or Euros in the majority of cities and big towns, the safest place to do so is the banks. There is also ATMs in most of the main cities and towns. In the more rural locations the chances to access banking services are more limited, so please bring enough money with you before going to those towns.
Credit and Debit cards are also widely accepted.
In Costa Rica, tipping is totally fine and is really well appreciated. How much you tip really depends on your own experience with the service you are provided with.
How to Enter and Exit the Country
Getting into Costa Rica is usually not difficult and it doesn't require a lot of documentation.
As in any other country, once you arrive you'll have to go through Migration. Be sure to have your valid passport. Sometimes they'll ask you some security questions, don't be alarmed it's part of their procedures.
For some countries, a VISA will be asked. Please check your particular case on
www.migracion.go.cr
where you can also check the information on the International Certification on Yellow Fever Vaccination that is also requested upon arrival to the country. All of this information can also be checked in the Costa Rican embassies abroad.
When you leave Costa Rica, all you need to have is your passport and flight tickets. The majority of big airlines already include the departing tax in their tickets so you won't need to worry about that. However, we strongly encourage our clients to double check this information with their airlines.
When you go to the airport take into consideration the season when you are traveling because if it is high tourism season you will really need to be at least 3 hours in advance at the airport due to the high demand of users at the facilities. You won't want to miss your flight making the line to get checked in.
After checking in you'll need to go through security where you'll have to place your belongings in a basket including your belt and sometimes they'll ask you to take your shoes off so remember to use easy to take off and put on shoes.
Finally, if you are traveling with your children, remember that if you've stayed for more than 3 months in the country, you'll need to have a permit to make sure the kids are yours and that you have the permit to take them out from the country. You can get that document in the Migration Office at the airport.
Packing for Costa Rica
Remember you are about to visit a tropical country. Some of the items we recommend you to pack are in the image below. Just keep in mind that the image is only a reference to help you with your packing but it does not represent the only articles you should bring with you, every visitor has its own necessities and you should pack accordingly.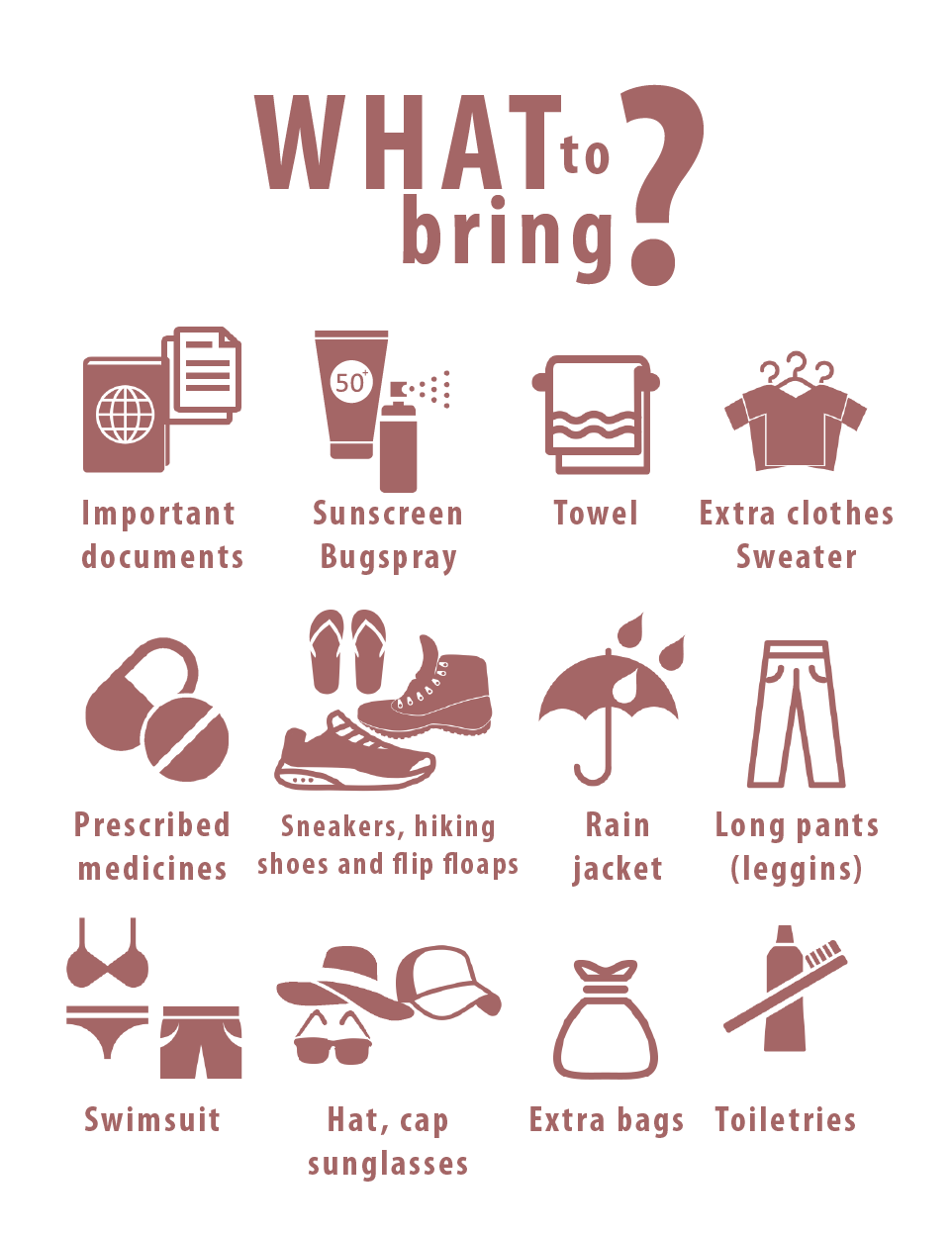 How safe is Costa Rica?
⚈ Costa Rica is a very save country, it is the third safest country in Latin America. It owns the 36th place on the world ranking.
⚈ Although being a safe place to visit, we encourage our customers to "travel smart". Just apply the same basic safety precautions that you'll take in any other city or country you travel to: lock your car, don't leave valuables on the seats, stick to your wallet, don't bring a lot of cash with you, avoid isolated places, etc. in case of an emergency, the Costa Rica Tourist Board and the National Police have created a special subdivision called Touristic Police with more than 250 officers, look for them and ask for help.
⚈ If there is a bad emergency, you can always call 9-1-1 from any calling device.
⚈ We recommend you to buy a Travel Insurance when you visit Costa Rica so you can get attended in one of the many public or private hospitals and clinics of the country.
⚈ The tap water is drinkable. However, we recommend our visitors to buy bottled water to avoid any problems linked to water ingestion.
What to eat and drink?
Costa Rican cuisine includes a lot of fresh vegetables and fruits. The food is not spicy but is definitely rich in flavor.
The base for every meal is rice and beans. Breakfast for example is called "Gallo Pinto" and it is rice and beans mixed with some fresh spices such as onions and sweet peppers. At lunch, one would enjoy of a "Casado" a plate full of rice and beans, with a protein usually chicken, beef or fish although other kinds of meats like pork are also consumed, the dish also includes some fried sweet plantains, lots of salad and some fresh vegetables.
The fresh fruit juices are to die for. Mango, black berry, papaya, passion fruit, pineapple are some of the examples you need to try. Of course you have to enjoy one of the national beers along with a fresh fish ceviche.
The Costa Rican cuisine is more than just rice and beans. We invite you to explore it when you visit the country.
Will animals attack me?
You need to keep in mind that we are the aliens visiting the wild environments. That is why we would like to recommend:
⚈ Walk exclusively on the trails meant for hikings.
⚈ Do not use flash while taking pictures of animals
⚈ Don't touch
⚈ Don't bother animals
⚈ Don't feed animals
⚈ Don't extract plants, animals, rocks, seashells, etc. from protected areas.